Sir Tim Laurence, husband of Her Royal Highness the Princess Royal, has accepted an invitation to become Patron for the Charity which owns the historic Paddle Steamer Waverley. Sir Tim recently enjoyed a visit to Waverley where he met crew members and Trustees of the Waverley Steam Navigation Co Ltd. which took ownership of the World's last seagoing paddle steamer after she was gifted for £1 back in 1974.
In a statement Sir Tim commented, "I thoroughly enjoyed visiting Waverley and learning what it takes to keep her sailing. Those who work hard to preserve and operate her deserve my support as Waverley is a unique vessel of exceptional importance. Not only does she illustrate and provide access to the engineering and maritime heritage of the Clyde and of Britain, but she provides the experience of going to sea under steam, with all the excitement, the sights, sounds and smells that involves. This ship is preserving heritage skills and social history as well as the fabric of the ship herself. I am very pleased to be able to help in the vital task of keeping her sailing for many years to come. She truly is a sight to behold"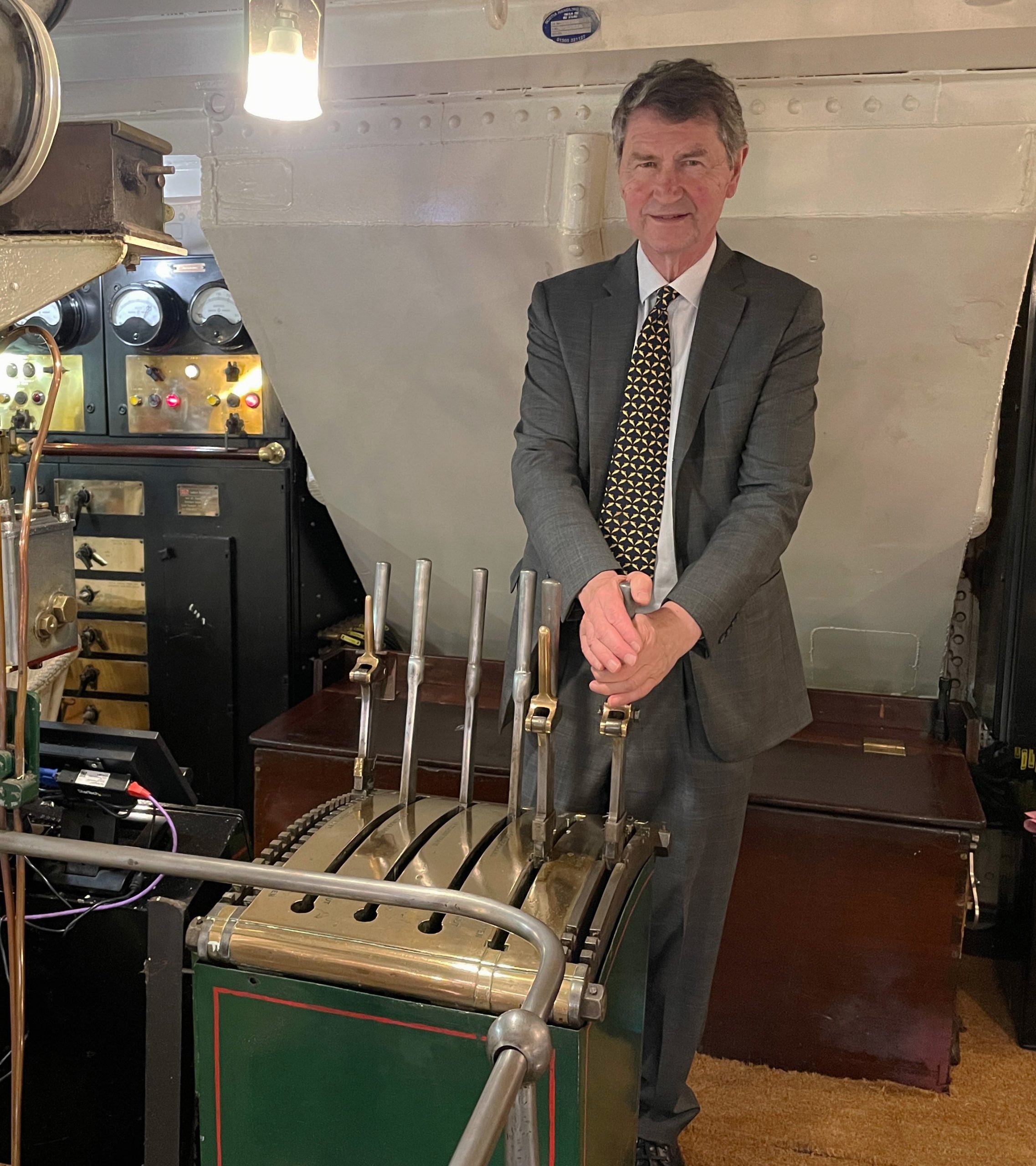 Sir Tim at the control levers in Waverley's engine room. 
Sir Tim Laurence enjoyed a distinguished career with the Royal Navy and is also a keen yachtsman who sails the waters of the west of Scotland every summer. His interests include transport and maritime heritage. He was Chair of English Heritage from 2015 – 2022 and is President of the Gloucester and Warwickshire Railway Trust and a Member of the Great Western Advisory Board.
Waverley will now operate on the Clyde until late August before heading for the South Coast and the Thames. Tickets for all sailings can be booked at waverleyexcursions.co.uk