1946
Waverley is launched
A misty October 2, 1946 saw the last paddle steamer to be built for Clyde services named Waverley and launched by Lady Matthews, wife of LNER Chairman.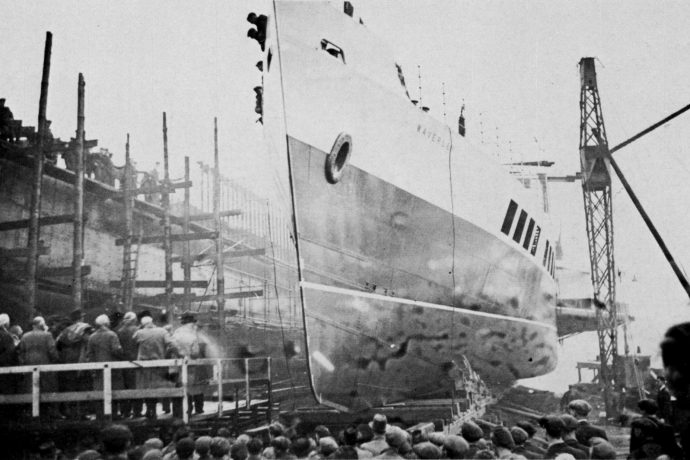 1947
Waverley's maiden voyage
Waverley's maiden voyage was on June 16, 1947 and saw her operate the route she was primarily intended – the cruise up Loch Long and Loch Goil to the villages of Lochgoilhead and Arrochar.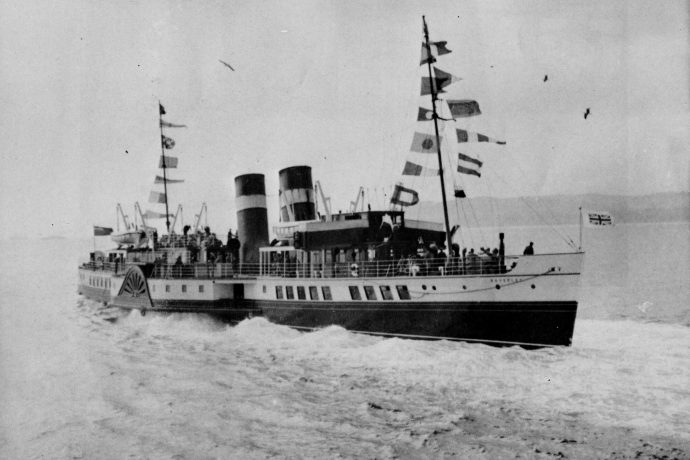 1948
Railway nationalisation
From 1948 until 1951 Waverley was operated by the British Transport Commission/Caledonian Steam Packet Co. Waverley is pictured at Arrochar during this period.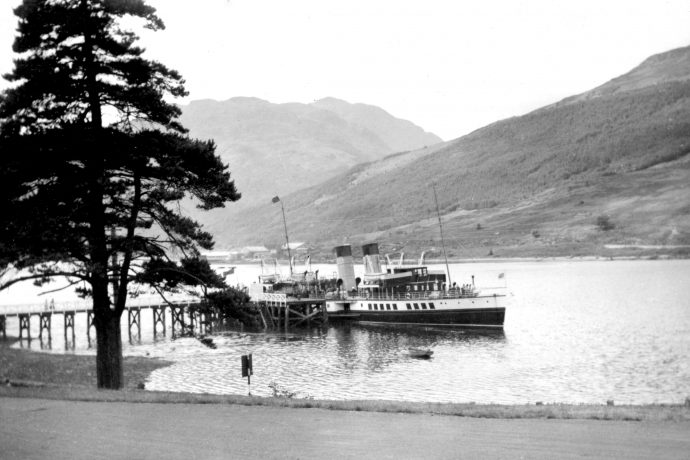 1972
FINAL YEAR OF CALEDONIAN STEAM PACKET CO
From 1952 until 1972 Waverley was part of British Railways Caledonian Steam Packet Co Clyde coast fleet.
Waverley is pictured in Loch Riddon (Kyles of Bute) during a PSPS charter showing the black paddlebox which was returned in 1972 thanks to the PSPS influence in promoting her unique status as the last Clyde paddle steamer.
1973
Waverley operated by Caledonian MacBrayne
By 1973 Waverley was the last seagoing paddle steamer in the world. For this year only she was operated as part of the fleet of Caledonian MacBrayne offering a variety of Clyde cruises and ferry duties until it was announced she would be withdrawn from service at the end of September after which her future would become uncertain.
By November 1973 Caledonian MacBrayne had offered Waverley to the Paddle Steamer Preservation Society (PSPS), the 'sale' for £1 came the following year.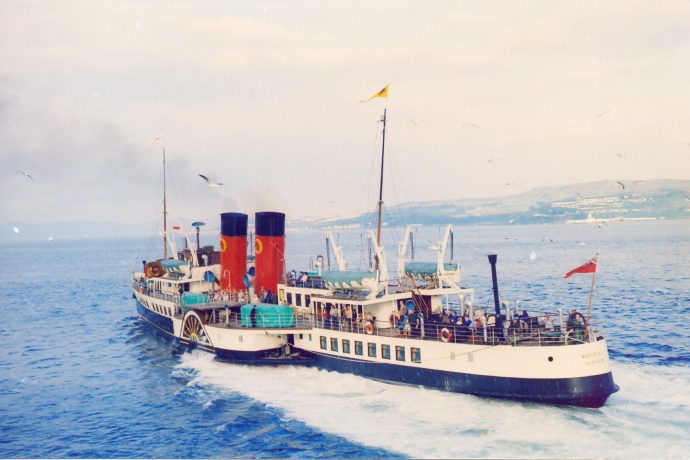 1974
Waverley sold for £1
On August 8, 1974 Waverley was gifted for £1 and officially handed over to Waverley Steam Navigation Co. Ltd., a company formed by the Paddle Steamer Preservation Society. The picture shows Waverley being handed over in the James Watt Dock, Greenock to Douglas McGowan MBE with Terry Sylvester looking on. Terry was Chairman of Waverley Steam Navigaition Co. Ltd. from 1974 until 1999.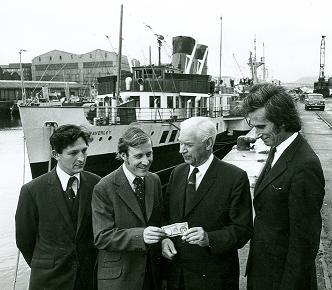 1975
Waverley returns to service
On May 22, 1975 Waverley carried her first passengers in preservation. She departed Glasgow with a magnificent send off thanks to the Glasgow Police Pipe Band. Those aboard that first sailing had helped in some way to return Waverley to service.
1976
Waverley proves popular
An appeal was required to raise much needed funds to complete Waverley's winter refit and return her to service in 1976. Her popularity grew such that one of the aft deck lifeboats was removed and replaced with liferafts allowing an increase in the passenger certificate by nearly 300 for sailings out of Ayr. The picture shows her in 1976 to full advantage.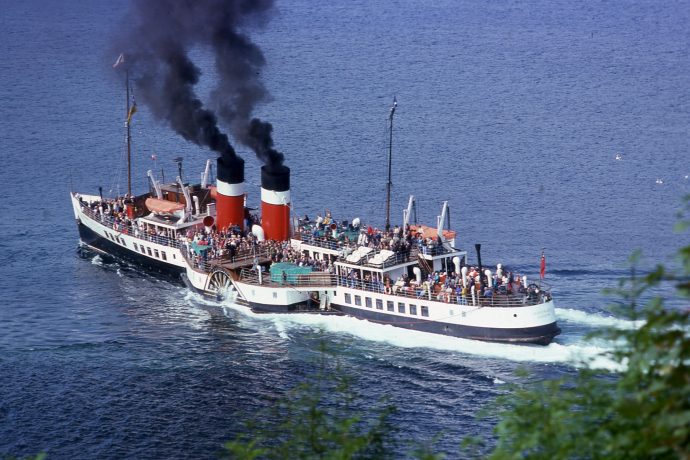 1977
Waverley crosses the border
To celebrate the centenary of Llandudno Pier Waverley steamed south to visit Liverpool and North Wales to much acclaim. Her first visit south proving popular lead to a greater adventure to the Thames and South Coast the following year.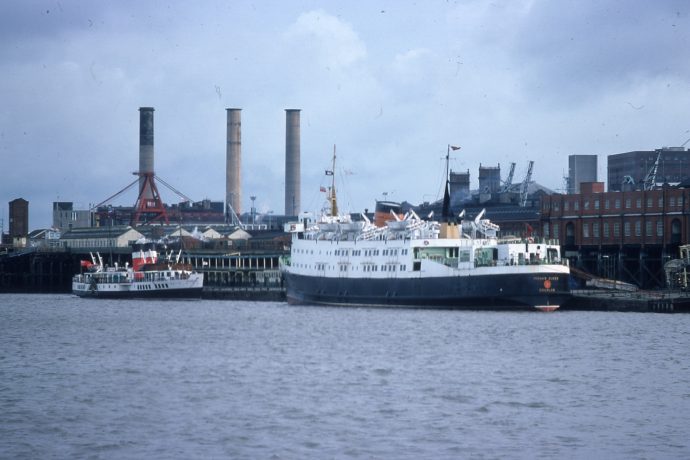 1978
Waverley's 1st visit to London
In the spring of 1978 Waverley left Glasgow for a 4 week stint of cruising the South Coast and Thames. On April 29, 1978 Waverley sailed from London Tower Pier for the first time.
1981
Waverley receives a new boiler
Waverley's original double ended Scotch boiler was replaced with a Babcock boiler. The advantages of new over old were immediate: improved speed, fuel costs decreased, less time to raise steam and bunkers taken less often. Following the installation of the new boiler Waverley completed her first round Britain cruise.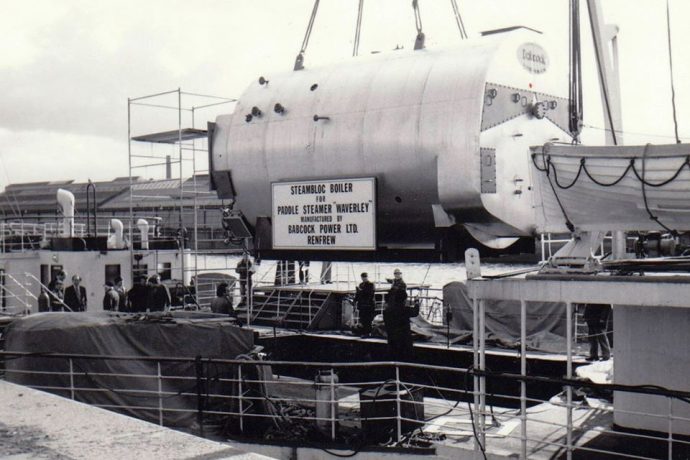 1983
Final Round Britain Voyage
For three seasons from 1981-83 Waverley circumnavigated Great Britain including the following areas: Clyde, Western Isles, Firth of Forth and Tay, Tyne and Tees, Humber, Thames, English Channel ports, South Coast and the Bristol Channel.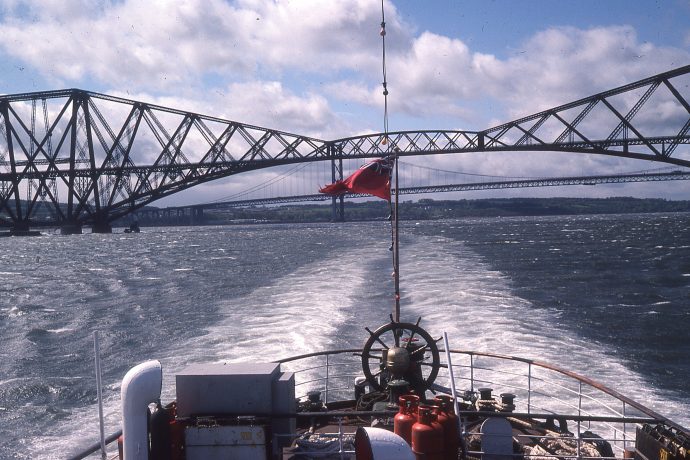 1985
Waverley visits Southern Ireland and the Isle of Man
Waverley's spring programme in this year included her first visit to the Irish Republic and Douglas on the Isle of Man. The Irish ports and piers included Dublin, Dun Laoghaire, Arklow, Wicklow, Rosslare and Cork. Waverley is pictured at Dublin on her first visit.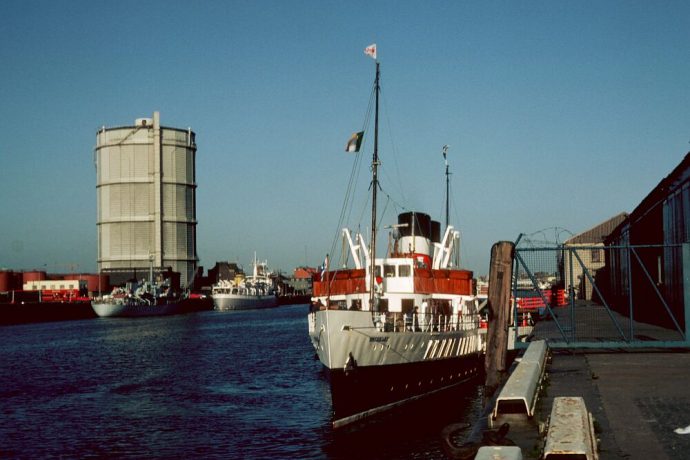 2000
Heritage Rebuild Phase 1 completed
Waverley's £7m heritage rebuild took place in two phases in 2000 and 2003. During the first phase Waverley received two new boilers and major works from the boiler room aft. She returned to service in August 2000 with an appearance closely matched to her original.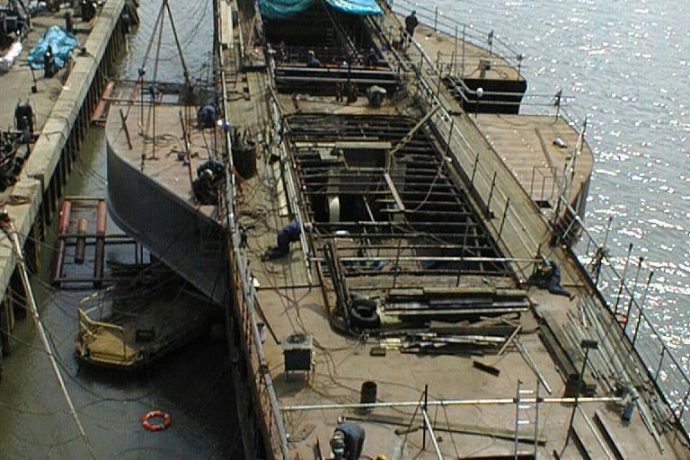 2003
Waverley's HERITAGE REBUILD IS COMPLETED
Waverley returned to service following phase 2 of her heritage rebuild. During this year the forward end of the ship saw major works including the Jeanie Deans Lounge, forward deck shelter and crew accommodation. Waverley is pictured on a barge at Great Yarmouth during the rebuild completion phase.
2019
Waverley wAS WITHDRAWN FROM SERVICE - BOILER REFIT APPEAL RAISED £2.3 MILLION
On May 10, 2019 it was announced that Waverley was withdrawn from service and would need new boilers if she was to sail again. The Boiler Refit Appeal was launched to raise £2.3m and Save The Waverley. The appeal attracted donations from over 8,500 individuals with support from the PSPS, Scottish Government, several trusts and foundations.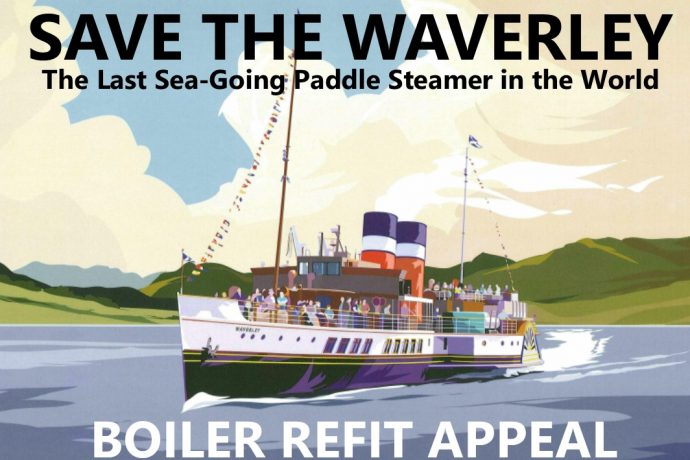 2020
New Boilers Installed & Waverley returned to service
Waverley's new boilers were installed in the ship in early April 2020. Following delays due to COVID-19 Waverley returned to service in August for a short season operating on the Firth of Clyde.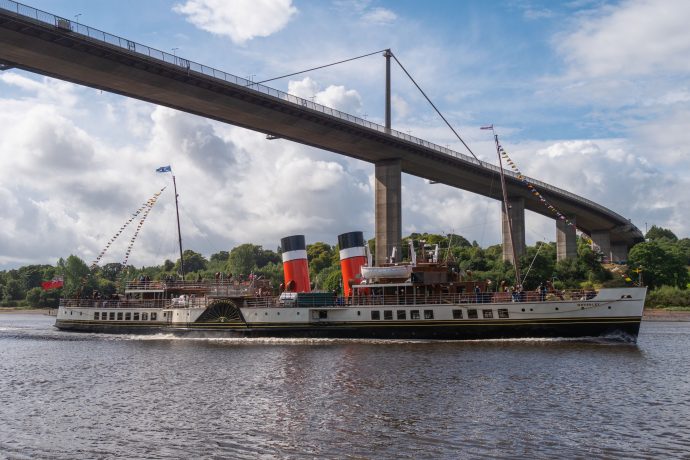 2023
Waverley's sailing programme expands
Waverley undertook her most ambitious season in more than a decade with over 60 ports and piers visited including two new calling points – Warrenpoint and Shoreham. Waverley returned to the Bristol Channel after a 5 year absence and called at several ports which haven't been on the sailing programme for decades including Craignure, Troon, Portishead, Tenby, Ryde and Ipswich.