Scroll down for online donation form below
Ian Jack was a steamer enthusiast. A warm, generous man, a nostalgist who lived in the present. An ardent supporter of Waverley's operational preservation in the 1970s, his enthusiasm for her never flagged. He knew her future remained precarious, and his writing repeatedly captured why her survival is so important. Waverley will miss him. The Waverley Steam Navigation Co. Ltd., Waverley's owning charity, thanks you for giving generously in his memory. We let his words speak for us.
"Alone of the old Clyde fleet, Waverley still sails to the islands and up the sea lochs every day in high summer, then sails south for a short season in the Bristol Channel, the Solent and the Thames. Launched in 1946 from the Glasgow yard of A & J Inglis – a site now occupied by Zaha Hadid's new Riverside Museum – the Waverley has followed the same tracks across the Clyde ever since. Britain has preserved many handsome machines, from royal yachts to express railway engines, but none of them other than the Waverley do the work they were intended for, where they were intended to do it. To sail on her is to experience a tradition that began with Henry Bell's Comet in 1812. In a livelier and truer sense, she is much more 'iconic' than Hadid's museum. Waverley represents a technology and a delightful form of seaside pleasure that found their highest expression on the river that built her." (The Guardian, 29 July 2011)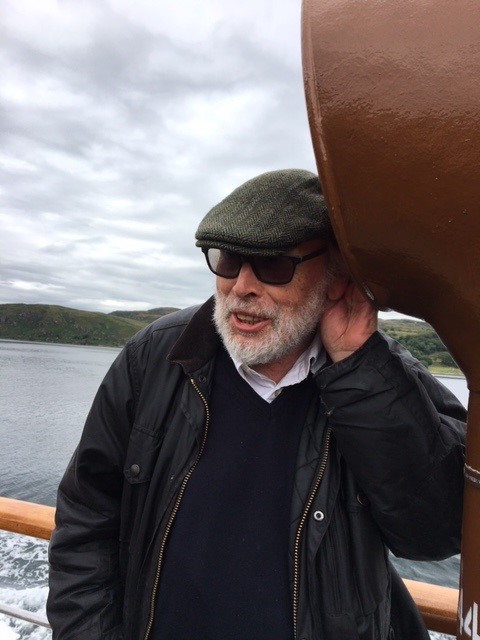 "Sailing home again, we'll have a drink from the bar and perhaps raise a toast. To next summer, to us! To the blossomest blossom and the fuchsiest fuchsia and the steamiest steamer."
(The Guardian, 24 August 2012)
If you are a UK tax payer you can opt to Gift Aid your donation to increase it by 25p on every £1 donated. Simply select the option to Gift Aid below.
If I have checked the box above, I would like WSN Co. Ltd. to reclaim the tax on this donation from me. I confirm I have paid or will pay an amount of income tax and/or capital gains tax for each tax year (6 April to 5 April) that is at least equal to the amount of tax that all the charities or Community Amateur Sports Clubs (CASCs) that I donate to will reclaim on my gifts for that tax year. I understand that other taxes such as VAT and Council Tax do not qualify. I would also like to Gift Aid all donations I have made to WSN Co. Ltd. in the last four years and all donations in the future until I notify you otherwise.
Thank you for donating in Ian's memory to support our efforts to keep Waverley steaming.
Donation Total £14,835
Donor Names:
Cameron Marshall
Phil & Annabel Athill
Sunil Sethi
Jean Harris & Billy McKellar
Paul Gordon
Hester
Andrew Lewis
Andrew O'Hagan
Michael Marshall
Sukhdev Sandhu
James Buchan
James Campbell
Fatema Ahmed
Annalena McAfee & Ian McEwan
Aditya Chakrabortty
Lindy, Alex & Bella Jack
Archie Bland
Sophie Harrison
Virginia Verran
Sally Muir
Antony Melville
Neil Levis
Phil Dunn
Judy Garton-Sprenger
Peter Wilby
Ben Holden
Blake & Kathy Morrison
Karen Whitfield
Alison MacDonald
Lewis Chester
John Lloyd
David Robson
Virginia & Tristan
Lesley Garner
Bill Paterson
Robert Bruce
Duncan Campbell
Jack Arthurs
June Wyer
Catherine Crowther
Tony Gould
Elizabeth Grice
Tim Lang
John & Sarah Fowles
John Nicoll
Polly Pattullo
Tara, Phil, Finn and Maya North
David Brennan
Victoria Gray
Jenny Black
Penny Jackson
Katie Latimer
Keith Howitt
Kenneth Trantor
Harriet and Richard Lambert
Hugh Raven
Phil and George
Harry Jack
Christina Noble & Family
Todd McEwen
Max & Caz
Zoe Johnson
Marchant Family
Christian Wolmar & Deborah Maby
Alex and Sheena Carruthers
Buchanan Programme & Bianca Howard
Neal Asherson
Tim de Lisle
Sally & Geoffrey Wheatcroft